Typically you will volunteer for about 2 hours a week over a
10 week period
 helping in a local primary, secondary or special school where you will support a teacher in a subject of your choice. You can be undergraduate or postgraduate and from any academic discipline. You can volunteer to help any age group, in any mainstream classroom subject within your own area of study or in other areas of interest to you such as art, music or sport.
​
Overseas students can also choose to offer native language support to children whose first language is not English.  Past students have offered valuable 
1:1 language support
 to children in a wide range of languages and several of our Arabic speakers were able to offer support to a group of Syrian refugees. Many of our students enjoy their experience in school so much that they arrange to stay on beyond the 10 weeks.  At the end of the scheme when you have completed your 10 visits you will qualify for the 
Students in Schools 
certificate and your achievement will also be recognised on your degree supplement.

IMPACT OF COVID 19
The current pandemic is currently preventing our volunteers from going into school classrooms.  We are hoping to be able to offer some limited 1:1 online support as an interim measure and be back in schools in the very near future.
HOW TO APPLY
To enrol on the scheme you will need to complete a Students in Schools Application Form and attend a mandatory training course.  The course lasts about 2 hours and will give you an introduction to the scheme and what will be expected of you in the classroom. It will also cover some important things you'll need to know when working with children and teenagers.
RETURNING VOLUNTEERS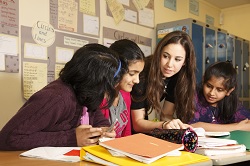 If you are a returning volunteer you will not need to attend another training course and can attend the priority 'school selection' session on Tuesday 2 October to give us your availability and preferences.  ​Details of this event will be sent to you at the start of the autumn term.
DBS CHECKS
All volunteers will need to have a DBS check before starting in schools (formerly a criminal record bureau check).  The Students in Schools department will help you with this process and to submit your application you will need to show us 3 original and valid ID documents.  Any delays in completing your application may result in you missing out on a place in a school.  We therefore recommend that you read the additional information here to ensure you will have the right forms of ID with you in Reading.  
DBS Documents Required
RECOGNITION
If you are participating in the 
RED Award
 then both the 'Students in Schools' training course and your time spent in school will count  towards your award.  Please note you will need to login and out of the 'Students in School' register at your school on each visit to ensure we have an accurate record of the hours you have spent in school.
​
When you have completed the required number of visits will qualify for your 'Students in Schools' Certificate and your achievement will be recognised on your diploma supplement annex.
M​ORE INFORMATION
If you have any questions on the scheme or need any more information please email Judy MacDevitt at 
j.macdevitt@reading.ac.uk