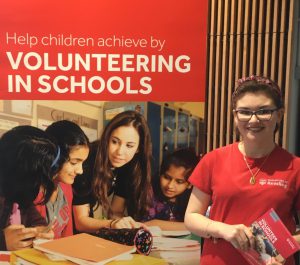 My name is Alice and I am a 3rd year Mathematics student.  I have always wanted to teach and joined Students in Schools to gain as much classroom experience as possible.  For the past two years I have volunteered in The Bulmershe School a secondary in Woodley.
I usually work 1:1 with different students and I found I was soon able to build a rapport with them. I often find myself smiling during visits as we laugh about silly mistakes or topics they don't like. It's part of what I love about the scheme – being a more relatable age gives us the chance to work well with schoolchildren who may not otherwise respond well to help.
The transferable skill I have developed most through this experience is adaptability.  I may explain a question to one student and then need to word it completely differently to another.  You need to adapt to whatever situation you are in, one minute you may be going around the classroom answering questions and the next you may be asked to help with a small group or a particular child who is struggling.
If you are thinking of joining my advice would be to get involved as soon as possible, don't sit back and wait for the teacher to ask you to do something.  Go around the classroom looking at work and asking questions about it, to see if there's anything you could help them with.  The teachers will soon tell you if they'd rather you did something else, so my advice is just go for it!